April, 2011
CitiStroller and Bye Bye with Baby have partnered to help even more parents and caregivers figure out "where to go with kids in tow!" Together, we've added thousands of new locations in several categories, including nursing spots, baby & kids gear, and restaurants.
These new locations expand CitiStroller's coverage area, with national locations as well as deeper regional content in the Southwestern and Southeastern US.
Later this Spring we'll launch brand new categories to provide even more functionality for our users. Together, we'll help you find gas stations worthy of a family pit-stop; emergency care facilities; family-friendly amenities at airports around the country; and where to pick up diapers or wipes when you've reached the bottom of the pack!
Download our iPhone app here to check out our newly expanded content! As always, users have immediate access to new location content in our database, without having to download software updates.
Contact us to learn more about our exciting new partnership and expanded coverage.
________
CitiStroller Winter Strolling Giveaways
Beginning January 18, 2011
CitiStroller and our fantastic partners want to give you more reasons to get out of the house and stroll this winter, regardless of the forecast! Join us on Facebook for a fiesta of giveaways, and hopefully you'll be cruising your neighborhood with one of these amazing products this season!
Winter Strolling Giveaway Partners
Baby Jogger has just debuted the Plush Stroller Hand Muff, which keeps your hands warm and dry while pushing your stroller. Features a soft, plush interior and weatherproof exterior.
Go GaGa's new Stuff Sack is the perfect place to stash dirty things while you're out and about. The Stuff Sack's odor proof, leak proof, stain proof and waterproof construction can control even the toughest dirt, moisture and odor. Plus, they're machine washable so that you can use them time and time again. Best of all, Stuff Sacks also block out dirt, odor and moisture that can ruin your stuff. Next time you head to the beach or get caught in the rain, stash your camera, dry clothes or iPod in our Stuff Sack for protection.
The new TextHook is the ultimate smartphone holder for your active lifestyle, TextHook allows you to stay in touch while on the go. The patent-pending design tightly secures your smartphone while still providing access to the touchscreen or keyboard. Texthook is a convenient place to put your phone and eliminates the need to dig through your bag in order to locate your phone. There are holders for your water bottle, holders for your shopping bags and now there is a holder for your smartphone. Fitness apps can be easily viewed while using your stroller for exercise.
The Haypenny Handmitten is a genius new product designed by a mom in Brooklyn, NY, and made using fair trade practices by women's groups in remote areas of Nepal and Peru. These women are trained and given a chance to earn a living wage to contribute to the success of their families and their communities. Created out of double combed wool, lined with fleece, the Handmitten snaps onto the handlebar of your stroller (one handled strollers), or the child safety bar on the stroller for mitten-resistent kiddies. Warm hearts, warm hands, Handmittens are made with love by moms for moms and dads like us.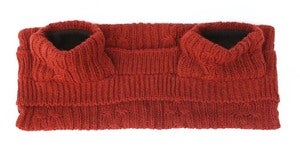 RoSK printed fleece stroller "b" blankets offer rip-stop water resistant backing and light polar fleece for all weather strolling and warmth. Sewn on ribbon ties make this blanket a functional piece of protective baby gear. Tie your fleece 'b' blanket on to use as a stroller cover, carrier cover, protective blanket for your infant car seat, or even as a nursing cover. A true multi-purpose item, you will not leave home without it.
_________________
We're proud to collaborate with Union Park Press, publishers of Boston Baby by Kim Foley MacKinnon on our Boston location data. CitiStroller features many of the parent-tested and thoroughly researched locations listed in Boston Baby, from indoor play & activity spots to locally-owned and fully kid-friendly restaurants.